Day of Mindful Remembrance
Sunday, November 5, 2016, 10:00am to 4:00pm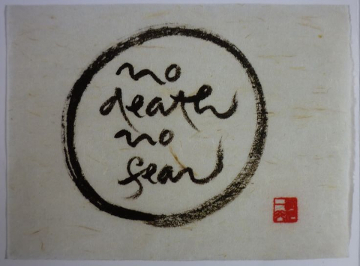 Impermanence touches us all, affecting us in a variety of ways. This Day of Mindful Remembrance offers an opportunity to contemplate impermanence and to remember loved ones who have died. We will use this Day of Mindfulness to reflect on the truth of impermanence, recognize important changes in our lives, and return fully to the present moment.
You are welcome to bring pictures of your loved ones with you.
Our practice for the day will include: sitting meditation, walking meditation, mindful eating, recitations, a dharma talk, a small amount of discussion, and a contemplation on loved ones who have passed away. Most of the day's practice will be in silence.
BRING your own lunch, a cup (tea will be supplied), a meditation cushion and mat if you sit on the floor, chairs are provided, a blanket for the deep relaxation, and clothing suitable for outside walking meditation.
The event is hosted and coordinated by our group members and is free (although you will have an opportunity to leave a small gift of a dollar or two to share in the facility rental, if you like).
DATE: Sunday, November 5, 2016
Please arrive a little early to be ready to begin at 10:00 a.m.
LOCATION: 120 Acadia Drive (The Evergreen Condominiums) There are two entrances off Acadia – look for the signs posted at the entrances to the alleyways. Park only in designated "visitor parking" spots. The Recreation Centre is a white free standing building separate from the gated units. The entrance is on the east side of the building.
Directions: Turn north at the lights on 8th Street and Acadia Drive or north at the three way stop on 14th St. and Acadia. Go past the Sherbrooke Nursing Home, a small strip mall, and a large park on the right adjacent to Cardinal Leger School. Watch for the Evergreen Condominium signs on Acadia, take the first left turn past Simon Fraser Crescent. Those coming from McKercher should take the first right turn past Simon Fraser Cres.
For more information, please contact Paulette Caron at 306-373-0610.
The Five Remembrances
I am of the nature to grow old.
There is no way to escape growing old.
I am of the nature to have ill health.
There is no way to escape ill health.
I am of the nature to die.
There is no way to escape death.
All that is dear to me and everyone I love are the nature to change.
There is no way to escape being separated from them.
My actions are my only true belongings.
I cannot escape the consequences of my actions.
My actions are the ground upon which I stand.