Sangha History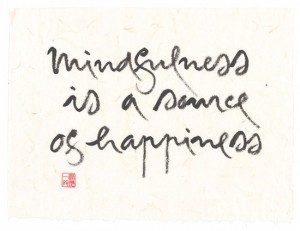 The Saskatoon Community of Mindful Living (SCML) has its origins in a retreat offered by monastics from Deer Park Monastery in 2004. An initially small group of retreat attendees began meeting to meditate and practice mindfulness together. We grew slowly and established formal organizational structure, with bylaws, in 2010.
A Governing Council of (approximately) five members is responsible for making decisions on behalf of the SCML between annual meetings. The Governing Council is established each year at the AGM, and meets regularly to discuss the health and operation of the sangha, organize events, and manage our finances. SCML is composed of Members, affiliates, and friends.
The purpose of the SCML is to maintain a spiritual community, offering opportunities for practice, study and spiritual friendship to individuals wishing to practice meditation and Buddhism in the Thich Nhat Hanh tradition. The SCML is open to participation by all persons, including persons affiliated with other Dharma traditions, religious traditions, and those unaffiliated with a religious or spiritual tradition.
Our guiding teacher, Rowan Conrad (Chan Phap Luc), has led most of our retreats. Rowan's home sangha is the Open Way Sangha in Missoula, Montana. We also had the privilege of having (now deceased) Cheri Maples (Chan Bao Niem), lead our retreats on several occasions.
Sangha Activities
The SCML hosts retreats on a regularly basis, typically once, although sometimes twice, a year. Our retreats are led by invited teachers in our tradition and are either residential, or non-residential with a residential option. We are able to offer full or partial scholarships for those who would be unable to attend without financial support.
As a peer-led group, we offer Days of Mindfulness on a regular basis (approximately four times a year). These days typically run from 10am-4pm, and are announced on our website and mailing list. They usually include sitting meditation, indoor and outdoor walking meditation, mindful eating, deep relaxation, a recorded dharma talk, dharma sharing, and singing. In early November we offer a special Day of Mindful Remembrance which is dedicated to practicing with the loss of loved ones, impermanence, and death.