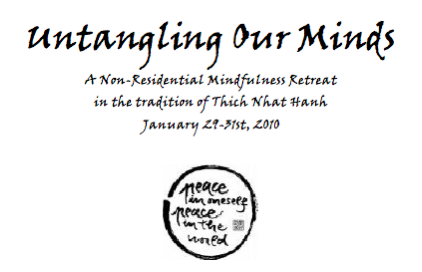 Queen's House of Retreats, 601 Taylor Street W.
This retreat is suitable for beginning and experienced students of meditation. Our practice will include sitting and walking meditation, dharma talks, and dharma discussion. Please plan to attend all sessions: Friday: 7pm-9pm, Saturday: 9am-9pm, Sunday: 9am-4pm
Register by January 22nd
Send a completed registration form to Paulette Caron, (306-373-0610) or p.caron@sasktel.net. The retreat costs $140 and includes vegetarian lunch and dinner on Saturday, and lunch on Sunday. Our retreat leader does not charge for his teachings and, following tradition, there will be an opportunity to support his teaching by making a donation.
Lay Teacher: Rowan Conrad
Rowan receive teaqcher transmission from Thich Nhat Hanh in 2004. He practices with the longest existing Thich Nhat Hanh sangha in North America (in Missoula, Montana) and works to bring mindfulness practice to prisoners.
Free Public Talk: Rowan will give a free lecture, open to everyone, on Thursday, Jan. 28, 7pm, th at the Frances Morrison Public Library in downtown Saskatoon.
This retreat is organized by the Saskatoon Community of Mindful Living
Click here for a PDF version you are welcome to print and post.